This is a continuation of our earlier post, SEO Best Practices for your eCommerce Store – Part I – wherein we essentially discussed how you can optimize your eCommerce site for search engines, making it easy to crawl, showing authority (with backlinks and content) and making keywords you want to rank for, relevant.
Getting your store to appear in organic search results on Google or Bing, though difficult and long-winded, but is certainly not impossible as it may seem, sometimes.
SEO Strategies to Enhance Your Product listings
Once you attain a clear understanding of the challenges faced by your eCommerce site, you can move forward by implementing the following SEO strategies that can help your product listings get ranked higher on search results.
Create compelling product descriptions: Don't make the same mistake that most eCommerce store owners make, i.e. using manufacturer's product descriptions. Search engines consider this to be a case of duplicated content, which might attract penalties. Product descriptions provide you with an opportunity to create unique, informative and compelling sales copy that boosts sales and conversion rates.
Using long tail keywords: Long tail keywords are highly targeted keywords having three or more words. People using long term keywords usually know what they are searching for, therefore a product page that has been optimized for long term keywords has a greater probability of attracting customers and converting them into sales.
Include customer reviews: It has been estimated that product pages having customer reviews are successful in converting over 58% more visitors, while boosting revenue by over 62%. This is because customer reviews help in establishing credibility and act as a social proof for potential buyers. Product pages featuring customer reviews rank higher since Google rewards pages that are frequently updated with unique content.
Make navigation intuitive: Your website's architecture can be incremental in attaining higher rankings and providing great user experience. So it is best to organize your product pages into appropriate categories so that it facilitates easy navigation.
Integrate social media on your product pages: Google rankings play a major role in influencing the quality and amount of social media signals since they reflect a page's relevance. It is advised that you add social sharing buttons for popular social media platforms like Facebook, Twitter, LinkedIn, Pinterest, etc., to your product pages in order to allow your customers and prospects to share product information with other potential customers.
Optimize page load speed: As many as 40% of visitors will leave, if your product pages don't load within 3 seconds, and approximately 80% of your customers won't return to your site if they are disappointed by your site's load time. Page load time can be optimized by employing lazy loading, compressing product images and fixing coding issues.
Write appealing metadata: Your product pages need unique, compelling Meta titles and descriptions incorporating popular keywords to increase its visibility. It is considered one of the most crucial aspects of on-page optimization. It is important to note that metadata is usually the first thing your potential customers come across, while making a Google search, so it is best to provide your potential customers with a compelling copy of product description that prompts them to make a purchase.
Include rich snippets: Snippets in the form of coded data can be included in product descriptions to provide more information about the product such as price, availability, etc. Incorporating snippets result in better Click-through-rates (CTR) as well as higher rankings on search results.
Include product images: Quality of your product images have a direct relationship with what your potential customers feel about your products. Always include visually appealing images to help your customers make informed purchase decisions. Also, tag these images with appropriate metadata so that they are easily searchable.
Use search-friendly URLs: Your product page URL's needs to be unique and should be optimized for main keywords. Appropriate URLs tell search engines what the page is all about while providing visitors with helpful product information.
Optimize your eCommerce site for mobile: Mobile shopping has reached its peak and it has made it important for you to make your eCommerce store mobile friendly. According to recent findings, over 30% of all eCommerce sales in US these days, take place using a mobile devices. Over 30% of customers using mobile abandon a transaction if a website is not optimized for mobile. Also, as many as 57% customers will never recommend a business having non-responsive websites. Hence, it is wise to use a responsive design for your website in order to create a seamless shopping experience for your customers across all platforms.
Improving your eCommerce site's performance is an ongoing process requiring you to stay updated with SEO best practices at all times. It is advised that you regularly test your website for errors, perform keyword and competitor research, observe Google's algorithm updates, and make the required changes to optimize your eCommerce website and provide your customers with a great shopping experience.
Looking for some help to optimize your eCommerce store? Write to us at mail@quiktekinfo.com and our experts will get back to you shortly.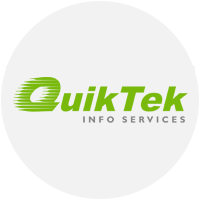 The QuikTek Info Blog
Brought to you by the Marketing & Communications Team at QuikTek Info. In this space, we offer the latest market trends, industry updates, guides, tricks, and other carefully selected informational pieces on eCommerce Catalog Processing & Optimization. Join our mailing list to stay ahead of your comeptitors.